Mistake Fares - Toronto to London, UK for $242 to $306 CAD roundtrip (non-stop flights)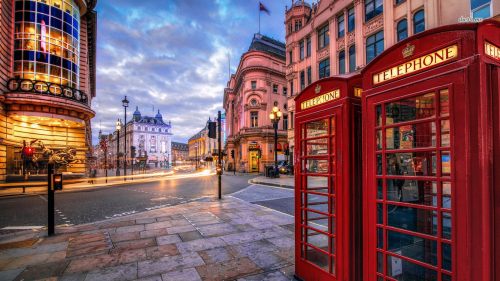 NOTE: These are a mistake price that are only showing up on the Sell Off Vacations website.
Normally that would be an indication that the flight can't actually be booked at that price.
But I have heard from a few people who confirmed their ticket and have an actual ticket number.
The #1 rule - DON'T CALL Sell Off Vacations or contact them. This will kill the deal.
If you do book this, wait at least a few days to make sure all is well. Don't book anything non-refundable in the meantime.


Update Feb 12 @ 8 AM EST - Success! Sell Off Vacations and Westjet officially confirm that they will be honoring all bookings!
Well that was an agonizing roller coaster ride they put everyone through, but the bookings are being honored! A big thank you to Sell Off Vacations and Westjet for coming to an agreement that works out positively for travelers.
Personally, I've never seen a mistake fare situation quite like this one.
Here is the e-mail that SellOffVacations has sent out to everyone:
Dear SellOffVacations customer, We apologize for the confusion regarding your recent booking on WestJet. Westjet has advised us that your booking will be honored.

Due to a technical issue with WestJet's third-party software provider that supplies fare information between WestJet and ourselves, SellOffVacations was one of a few travel agencies affected by an incorrect fare for bookings on WestJet. The issue was corrected by WestJet's third party software provider as soon as it was discovered.

Both WestJet and SellOffVacations have been working diligently to come to a solution for the benefit of our mutual customers. We previously advised that your flight booking could not be processed and that a refund was to be made however, WestJet will now be honoring all flight bookings made during the technical issue. Westjet has confirmed your booking has not been cancelled and SellOffVacations will be sending you an updated invoice. Please do not contact WestJet as the booking is held with our company.

Thank you for your patience,

SellOffVacations


Update Feb 11 @ 9 AM EST - Sell Off Vacations and Westjet continue to blame each other. SOV taking legal action against Westjet?
Throughout the weekend, and even through Monday, there wasn't a whole lot to report. I did see an interesting comment posted today...
I'm on the phone now with selloff vacations. They are saying westjet are having a meeting today and selloff will have something binding today. Selloff are strongly blaming westjet and saying they are taking legal routes because of westjet publicly blaming selloff. Everyone should flood twitter - tweet westjet and selloff. nobody has received any refund and it could still be a few days away if WJ have not started that process. Maybe a big effort today will get WJ to honour these flights.
Twitter: @SellOffVacays - @Westjet
Other notes:
1. Travelers are still showing official, ticketed flights and ticket numbers through the Westjet website, app, etc. They've now had these tickets for nearly a week.
2. Gabor Lukacs of Air Passenger Rights Canada (Facebook Group) has indicated this situation may be against provincial consumer protection laws.
3. Westjet has allegedly been blaming a company named Farelogix (a company that WestJet uses to post their fares to third party sellers such as Sell Off Vacations) for this situation.
Sell Off Vacations allegedly blames Westjet for not being able to honor the price that the 'SOV wholesaler' provided for these flights.
I have not seen an official statement from any of the parties involved.


Here's an example of what people were hearing from Westjet agents in regards to their bookings: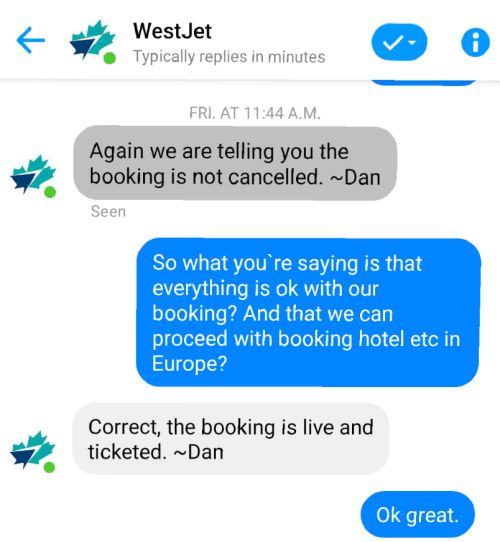 Update Feb 7 @ 9 PM EST - the plot thickens...
I called SOV and an agent told me that they are trying to decide what to do, and probably won't have an answer until probably Monday? Lots of departments working on it over the weekend. He didn't have an answer for me but was helpful in explaining that FlightNetwork is the wholesaler selling the tickets to SOV and who has actually taken money for the tickets. They have not gotten a response from FlightNetwork yet. When I messaged WestJet, they tell me they are not in control of the ticket; they just show a valid ticket right now (but that could change if SOV cancels the tickets). It seems that this is a big problem involving SOV, FlightNetwork and WestJet. My understanding is the tickets can be cancelled at any point (and refunded) until such time as SOV/FlightNetwork advise that they will honor the price or not.
For what it's worth I do believe this is very plausible. Flight Network used to be Canadian but was bought by a Swedish company, Etraveli Group, in June of last year.


Is there anything I can do right now?
If you don't have your actual booking confirmation code from Westjet yet, it can be worth calling them to ask for it.
The one from Sell Off Vacations is a different code that won't work to access your booking on the Westjet website.
If you call Westjet and tell them that you bought the tickets from a third-party then they will look it up for you based on confirming your identity (name, flight date, DOB, etc). You can then enter this reservation code on Westjet's website (under Manage trips > Manage flights) to see your flight.
Other than that, well, if you have any media contacts, they might be interested in this story.


Update Feb 7 @ 5:30 PM EST - glimmers of hope?
I'm trying to be very careful not to get anyone's hopes back up, it's been enough of an emotional roller coaster already. But I am starting to see 'glimmers of hope' messages come in from people....


Hi there, I just spoke to a WestJet agent. She confirmed that contrary to the email that I received from Sell Off Vacations my reservation is in the system and would be honored. To be honest I'm not impressed by Sell off vacations as they sent two emails to me - one with the Westjet logo on it which I suspiciously suspect was perhaps to have me assume that Westjet was the sender of this email.


I just spoke with Westjet via Facebook Messenger to express my displeasure, and sent them screenshots of my booking as well as credit card charges. They issued me a new confirmation code, and now my flights are showing up online and in the app. They told me they were aware of the SelloffVacations email. So not sure if they just gave me a new confirmation code to appease me, or if they actually were able to find me even though I didn't have a ticket number and it was an error email? No clue!


earlier today I got the email saying the booking would be cancelled. An hour ago, as I was on the phone with Sell Off Vacations listening to the agent repeat over and over that it was a "Westjet internal system error" and "there's nothing we can do about it", I received another email from Sell Off Vacations with an invoice attached, saying here's your invoice, please check to make sure all information is correct, and have a great trip. I just called Westjet and was given the Westjet confirmation code for our flight. All very confusing, but at this point, I'm hoping it means that SOV has given in and is honouring the bookings. Fingers crossed! Thanks again for all your work - I check the website nearly every day!
** but I've also received this one ... **
I've been on the phone between Sell Off Vacations and WestJet all day. The latest, is WestJet has given us ticket numbers, but claimed if selloff were to cancel (which they said is a very strange situation), WestJet wouldn't honor the price. Selloff is still claiming this is on WestJet. I told them WestJet went public on twitter about this, and they said they couldn't see anything about it and actually had me send a screen shot of what they had said on twitter! Then, the person I spoke with essentially said they were telling the public something different than what was told to them... They said essentially that WestJet has told them to cancel due to a system 'glitch' with the price. I've asked to see that email, they said it's 'internal', so won't send it to me.
Update Feb 7 @ 3 PM EST
Checking out the @Westjet twitter feed, I'm seeing this: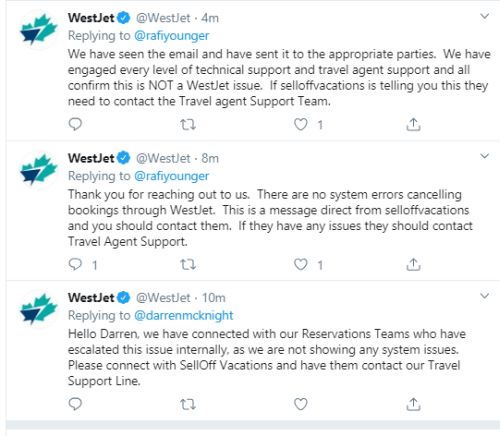 Westjet seems to be claiming that they are not canceling any bookings and are blaming it all on Sell Off Vacations.
Nothing posted about this on the Sell Off Vacations Twitter feed (which only has 4,000 followers).


In terms of social feedback, I'd probably focus on @Westjet
Twitter - Facebook - Instagram.
In my opinion, they're the ones with the real power here to make any changes in this situation. Even if they are trying to blame it on Sell Off Vacations.
But it can also be worth calling Sell Off Vacations and getting them to contact the Westjet travel agent support team.
It does seem strange to me that Sell Off Vacations would send out an e-mail where they apologize 'on behalf of Westjet Airlines', with the Westjet logo at the bottom, and that Westjet seemingly has no knowledge of this e-mail. Or maybe they drafted it up together, but SOV wasn't supposed to hit send.
Here is the e-mail people have been receiving from Sell Off Vacations:

I've also received this e-mail:
Just to let you know where things are at - after a few hours on the phone - both WestJet and selloff have been blaming the other parties and saying to contact the other one. However WestJet has confirmed multiple times with us at least that the flights do still exist and our tickets are currently valid in their system.
And this one:
I called Sell Off Vacations and they repeated that all their information is direct from WestJet and would only repeat that when I asked why, they said WestJet was telling customers differently both publicly and privately. We shall see, thanks for your hard work!
Update Feb 7 @ 2 PM EST - Damn it
Since posting the update below, I've received e-mails from people saying their booking was cancelled by Westjet this afternoon and that they would be issued a refund.
It is a little unusual for an airline to take this long to decide to cancel a mistake fare, especially since the tickets were issued nearly 2 days ago.
I'm sorry everyone, it really did seem like Westjet was going to honor these, and I know from personal experience it's a real emotional punch to the stomach to have a trip cancelled.
Airlines sometimes take the financial hit on a mistake fare and view it as good marketing buzz, or at least, to avoid social media outrage. I think the old, friendly Westjet might have done that. Maybe things have changed since being purchased by the Onex Corporation.


Update Feb 7 - For those of you that booked this, here's what I can tell you...
a) I haven't heard of any cancellations, and by all accounts, it appears that Westjet is honoring these mistake fares. Ultimately, it's the airline that gets to decide whether or not to honor the fare in a situation like this. So a big kudos to Westjet for (apparently) doing so. I'm not so sure our other national airline would have done the same. Try and be extra nice to their employees on your way to London! Give them a shout out on social media.
b) I often hear from people that are worried up to the day of their flight that the airline suddenly won't honor their fare. It doesn't really work like that. A decision is made by the airline in the 24-48 hour period after the mistake whether or not to honor the bookings or give a refund. It's been about 36 hours now, and all appears well.
c) The confirmation code you received from Sell Off Vacations isn't the one that works to check your booking on the Westjet website. I have heard from some people who have called Westjet and they were able to provide the actual booking code based on other details (name, etc). Although I've also heard from others who called and Westjet couldn't retrieve it. It might depend on the agent you get. Yes, it's ok to call now :)
------------


Update @ 1 AM EST - The Sell Off Vacations search engine seems to be dead. I'm getting a lot of Gateway Time Out errors when searching. Either it was overwhelmed with the traffic or they've purposefully taken it offline.
Update @ 7 AM EST - For all intents and purposes I would call this deal dead, *but* I am still seeing a few of these show up on the Cheapoair.ca mobile site. It *only* works on the mobile site. But it's really difficult to find working dates. Essentially luck of the draw. Using promo code SUN36 or TRAVEL30 at checkout may bring down the price a little more.
So far, from the large number of people I've heard from who booked through Sell Off Vacations last night, there haven't been any cancellations and their bookings are showing up as confirmed on the Westjet website.
I'm still having some luck with Sunday to Monday/Wednesday/Thursday/Saturday dates in late Feb and March on the Cheapoair.ca mobile site. I've heard from people that have had success recently with Sep/Oct/Nov dates, but I haven't seen any for a while.
Feb 23 to Feb 27, 29, Mar 2, 4, 5
Mar 1 to Mar 5, 7, 9, 11, 12
Mar 8 to Mar 12, 14, 16, 18, 19
Mar 15 to Mar 19, 21, 23, 25, 26
Mar 22 to Mar 26, 28, 30, Apr 1, 2
How to find and book this deal
1. Go to the Sell Off Vacations website
2. Click on the 'Flights' tab
3. Search for a flight from Toronto (YYZ) to London Gatwick (LGW)
Try one of the following example date combinations:
Feb 29 to Mar 6, 10
Mar 2 to Mar 5, 9, 12
Mar 4 to Mar 8, 11, 12, 14
Mar 6 to Mar 10
Mar 8 to Mar 12
Apr 27 to May 2, 6
May 3 to May 13
May 4 to May 11, 13
May 5 to May 21


NOTE: These are just example dates I've tried. To find your own dates...
1. Try a Google Flights search like this one:
Google Flights: Toronto to London Gatwick
- click on the departure date box to open up the calendar view
- browse for the cheapest dates throughout 2020. Look for the dates in the $500s or low $600s roundtrip.
- try those same dates on the Sell Off Vacations website


You can also find one way flights from Toronto to London for as low as $71
1. Try a Google Flights search like this one:
Google Flights: Toronto to London Gatwick (one way)
- click on the departure date box to open up the calendar view
- browse for the cheapest dates throughout 2020. Look for the dates that are around $245 one way. These are mainly in late April, May, September, and October.
- try those same dates on the Sell Off Vacations website


screenshots from the Sell Off Vacations website


People That Liked This Page Also Liked:
| | |
| --- | --- |
| | You may also want to check out pages that were tagged with: |
| | |
Be The First To Know About The Next Amazing Deal!
Head to the
YYZ Deals Alerts Page
where you can choose to be notified by e-mail, Facebook, Twitter, or RSS Feed the moment an amazing travel deal from Toronto is found.
Setting up alerts allows you to be one of the first to see a new deal, before it sells out.
And don't worry, alerts are only sent when it's truly an amazing deal.
Like Our Site? Follow Us!
Comments from Facebookers
Comments from Everyone Else