Tagged Pages Archive | Portugal
It looks like SATA is offering some really cheap flights from Toronto to the Azores in April 2014. Considering even the cheapest of the cheapest flights to Europe tend to be around $600-$700 roundtrip from YYZ these days, it's certainly a price that sticks out, even if the Azores are not mainland Europe (but are a part of Portugal).
To find this price, have a look at SATA's website:
https://www.sata.pt/en/
From:Toronto (YYZ)
To: Ponta Delgada (PDL)
Departure: April 05 or April 12
Return: April 19
Select the 'Flexible Dates' option to bring up a calendar that makes it easier to compare date combinations and prices.
There might be some other cheap date combinations available if you have a look at March or possibly even into May.
UPDATE 1: Feb 12, 2014 - It looks like prices have dropped a little bit more, down to $330 roundtrip including taxes.
screenshot of verified price:
It also looks like Toronto to Lisbon, Portugal (LIS) can be had for $465 roundtrip including taxes - which is nearly 50% cheaper than the next cheapest fares on any other airline! Try April 08 to April 18 for example.
About the Azores
I had the opportunity to visit the Azores in October of 2013. In fact, it was on the same SATA flight into Ponta Delgada via Toronto.
Leading up to the trip, I think I only ran into one or two people who even knew where the Azores were. They are in the middle of the Atlantic, about two-thirds of the way from North America to Europe.
The Azores are made up of 9 islands, and I visited 4 of them (Sao Miguel, Pico, Faial, and Terceira) in about 10 days. You can find SATA flights between most of the islands, but a lot of them connect through Ponta Delgada (PDL), which is by far the largest city.
Climbing Pico mountain at sunrise was one of the highlights for me...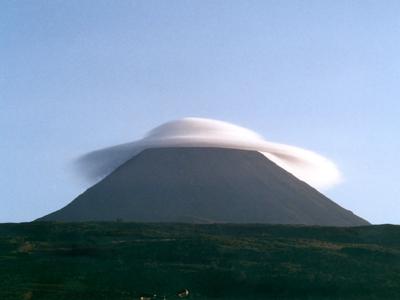 ...along with hiking around some cool looking caldeiras (collapsed volcano) such as Lagoa do Fogo.
I had also hoped to spot some whales up close, as the Azores are known for being one of the best whale and dolphin watching spots in the world, but October turned out to be a sparse month for whales in 2013. April is actually supposed to be a very good month for whale watching.
Overall, I'd recommend the Azores to the more independent traveler, perhaps with at least a few countries under their belt. You won't find a lot of tourist infrastructure in the Azores, or great public transportation. You pretty much need to rent a car, and organize your own sight-seeing.
I would also recommend it for people that like to hike, or enjoy getting away from other tourists, in a very isolated place that is often named the 'most sustainable' tourism destination. A few Germans here and there were about the only other tourists I saw in October. The Azores definitely has an authentic feel to it, which can be hard to find these days.
If you have any questions about the Azores, feel free to comment below, or post your question in the YYZ Deals Facebook Group, and myself or someone else in the group that's been to the Azores can try to help.
YYZ Deals Contact Form submission of the day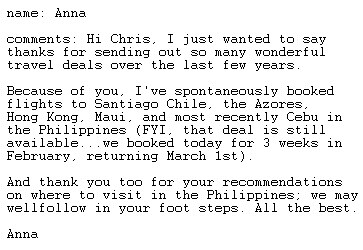 Hit Like if you like this deal! Click Share to show your friends on Facebook.
Read more


Sunwing has a last minute flight to Lisbon, Portugal for a pretty crazy price for anyone that can leave last minute.
Read more


Looks like Sunwing has started to really slash the price of their flights to Europe, which is resulting in some *extremely* cheap multi-city flights for anyone that can leave last minute.
Read more


This is kind of a followup to the last post I made, which resulted in the Sunwing Portugal flights selling out pretty quickly. They appear to be selling some more cheap one way flights, although they're $94 now, instead of $35.
Read more


Update April 21 - I think YYZdeals followers might have sold out the Sunwing flights. I'm getting an error message now.
-------------
Read more


UPDATE: Looks like there's some cheap ones available in late May now...
Read more


They're not quite as cheap as the ridiculous June flights, but it looks like July prices to Lisbon, Portugal just dropped. Will they drop to sub-$300 levels like they did in June ? Impossible to say, but sub-$400 to Portugal in peak summer season is still pretty amazing.
Read more


Yes, that June 20 to 28 flight from Toronto to Porto, Porutgal has dropped another $50. Because a flight from Toronto to Portugal for $330 roundtrip after all taxes apparently wasn't crazy enough.
Read more


There was an article in the Financial Post yesterday about how Air Transat is expecting an earnings decline this year due to unexpected competition from Sunwing on flights to Europe.
Read more